Forensic Examining Services
Handwritten Evidence
Determine the authenticity of legal documents, such as wills, contracts, and deeds
Analyze written medical charts to verify who recorded an entry or examine the signatures on a petition
Compare the handwriting on an anonymous letter to that of a suspect
Verifying that the document was written by a particular person but also whether any alterations have been made
Other written evidence that we analyze includes time sheets, checks and tax returns
Aspects Analyzed
Not only at handwriting but also the paper, ink and writing implement used
Evidence that one or more words were added or altered after the original was written
Conclude that a signature is a forgery or authentic even if the signer denies the fact
Compare the style of ribbon used, such as fabric or film, on typed documents and look for after-the-fact changes
On both typed and written documents, we determine any watermarks or other factors that identify the manufacturer
Evaluate evidence consisting of indentations left on a sheet of paper that was under a written document
Testimony
We may take the stand for the prosecution or the defense, depending on the conclusions reached regarding the items in question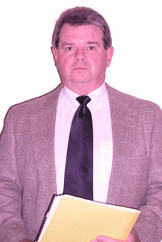 Jim Hartwick
Office Manager and Investigator
Jim Hartwick is a thirty year veteran of Law Enforcement. For the last eighteen years of his career, Jim worked as a criminal investigator for the St. Louis County Prosecuting Attorney's Office. In this role, he analyzed violent crime prosecutions and developed case-specific evidence to aid in the prosecution of major felony cases.
Jim has assessed the effectiveness of expert and lay witnesses in hundreds of felony trials, and routinely has prepared these witnesses for courtroom testimony. Jim retired in 1999 and opened his own investigative business that focuses on a variety of criminal and civil investigations including product and premise liability.
Jim currently is a contract investigator for the United States Department of Defense performing background investigations for prospective federal employees. In 2001, Jim spent a year with the United Nations Mission in Kosovo (former Republic of Yugoslavia) where he served as an International Police Officer. He was responsible for the training of Kosovo Police Service (KPS) officers, was Chief Investigator for one of the regional stations, and was regularly involved in anti-terrorist operations in conjunction with Russian and U.S. Special Forces. Jim has a B.A. in Administration of Justice and an M.A. in Security Management.
office: 573-964-5159
mobile: 314-791-6633
docsinv@aol.com